Private Opd Timing
Private Opd Timing
Dr Rajeev Sharma
Days
Registration Timing
Tuesday
10:00 AM
To
12:30 PM
Friday
10:00 AM
To
12:30 PM
Dr Subrat Kumar Raul
Days
Registration Timing
Monday
10:00 AM
To
12:30 PM
Thursday
10:00 AM
To
12:30 PM
Dr Rakesh Vakil
Days
Registration Timing
Saturday
10:30 AM
To
12:30 PM
Dr Rahul Sinha
Days
Registration Timing
Wednesday
10:00 AM
To
12:30 PM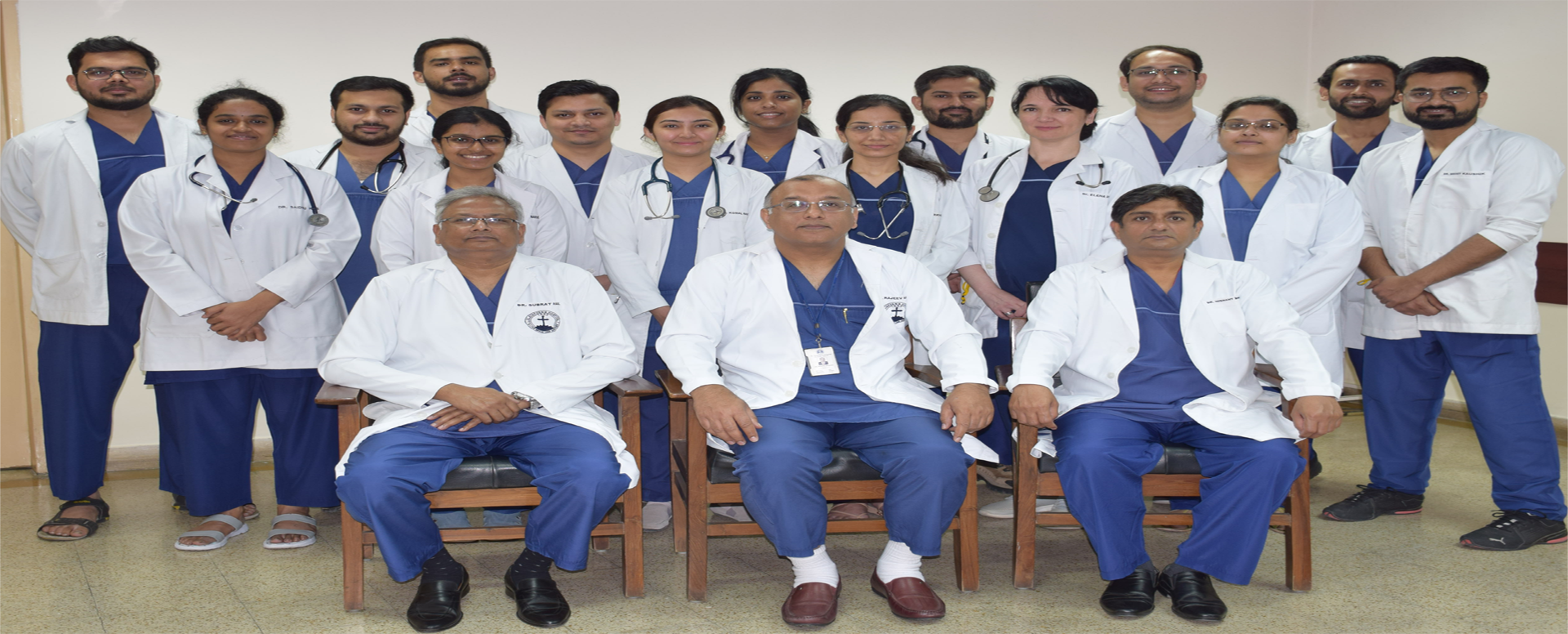 Surgery/ शल्य चिकित्सा
Reachable(8:30am- 4pm) at 011-2396621-27,Ext- 530(General OPD), 401(Pvt OPD)
The Department of Surgery at St. Stephen's Hospital is helmed by Dr Rajeev Sharma under the guidance of the Director, Dr Sudhir C. Joseph.
To ensure smooth functioning the department is divided into 3 units each headed by a very skilled and experienced surgeon. All types of cases as mentioned below are done in each unit with Unit I dealing more with breast and endocrine surgeries, Unit II with advanced laparoscopic surgeries and unit III with gastrointestinal surgeries.
The department provides diagnostic, medical and surgical care for all general surgical, gastrointestinal and hepatobiliary conditions.
Services provided
LAPAROSCOPIC SURGERY/लापरोसकोपिक सर्जरी
We regularly perform Open and Minimal Access surgeries also known as laparoscopic surgeries for-
Hernia/हेर्निया -Ventral hernia, inguinal hernia, diaphragmatic hernia
Gall bladder/ पित्त की (Cholecystectomy)
Appendix/ अपेंडिक्स (Appendectomy)
Gastro-oesophageal reflux disease/ ऐसिड रिफ्लक्स (laparoscopic fundoplication)
Bariatric surgery /वजन कम करने के लिए (weight loss / anti-obesity surgery)
Oesophagus  (Oesophagectomy)
Stomach/पेट की (Gastrectomy)
Video Assisted Thoracoscopic Surgery(VATS)/छाती की बिमारियाँ (diagnostic and therapeutic)- eg. for the diagnosis and treatment of occult TB, bronchogenic carcinoma, mesothelioma,broncho-pleural fistula, empyema.
MAJOR SURGERY
Hepatobiliary surgery/ पित्त -जिगर
Resections and reconstruction-
Liver resections / जिगर की सर्जरी- eg as in multifocal cholangiocarcinoma
Complex Colorectal resections and reconstructions, including ileo-anal pouch reconstructions, as well as intra and extra-sphincteric Abdomino-perineal resection/ आंत की सर्जरी
Whipple's surgery
Haemorrhoids/ बवासीर
Rectal prolapse / रेक्टल प्रोलैप्स
Anal fistula / फ़िस्चुला
Endocrine surgery/ थाइरॉड, पैरथायरॉड,अड्रीनल- complex thyroid, parathyroid, adrenal and extra adrenal disease - in coordination with endocrinology department
Gastrectomy
Eosphagectomy
Parotid, submental gland, submandibular gland surgery / पैरोटिड, सुबमेंटल, सब्मैंडिब्युलर ग्लैंड
SMV repair/ reconstruction
Extensive lymphadenectomy
BREAST CLINIC
It is being run under the guidance of Dr. Rajeev Sharma and both General and private patients are being seen on Friday from 2:00pm to 4:00pm.
We manage benign and malignant cases of breast disease. We offer Reconstructive Breast Surgeries, Augmentation and Reduction Mammoplasties.
THE GASTROINTESTINAL SURGERY UNIT
 A part of department of General Surgery is headed by Dr Subrat Kumar Raul. The GI surgery Unit has its outpatient OPD on Mondays and Thursdays in general Surgery OPD.
All major and minor surgical issues of routine GI disorders pertaining to Luminal (Oesophagus, Stomach, Small bowel ,Colo-rectal) and HPB(Liver, gall bladder, Biliary system and Pancreas) are dealt with routinely. 
Regular multidisciplinary discussions specifically with Departments of Gastroenterology, Medical Oncology and Department of Conventional and Interventional radiology are frequently done for management of selected patients.
I.C.U
We are well equipped with state of art dedicated Surgical I.C.U. with a total of 15 beds and an H.D.U(high dependency unit) with 9 beds, along with general and private wards distributed adequately, manned by very well-trained doctors and Nursing staff.
CHEMOTHERAPY FOR CANCER
We offer Neo-Adjuvant as well as Adjuvant Chemotherapy for all malignancies that are diagnosed and undergo treatment with us.
DIAGNOSTIC AND THERAPEUTIC RADIOLOGY
We have the latest in Diagnostic and Therapeutic Radiology, and use latest MD CECT and 1.5 Tesla MRI, along with DEXA, Digital Mammography, 24-Hour X-ray services, Fluoroscopy treatment of our patients.
---