Ophthalmology
नेत्र विज्ञान
Private Opd Timing
Private Opd Timing
Dr Jasmita Popli
Days
Registration Timing
Monday
8:00 AM
To
3:30 PM
Tuesday
8:00 AM
To
3:30 PM
Wednesday
8:00 AM
To
3:30 PM
Thursday
8:00 AM
To
3:30 PM
Saturday
8:00 AM
To
12:30 PM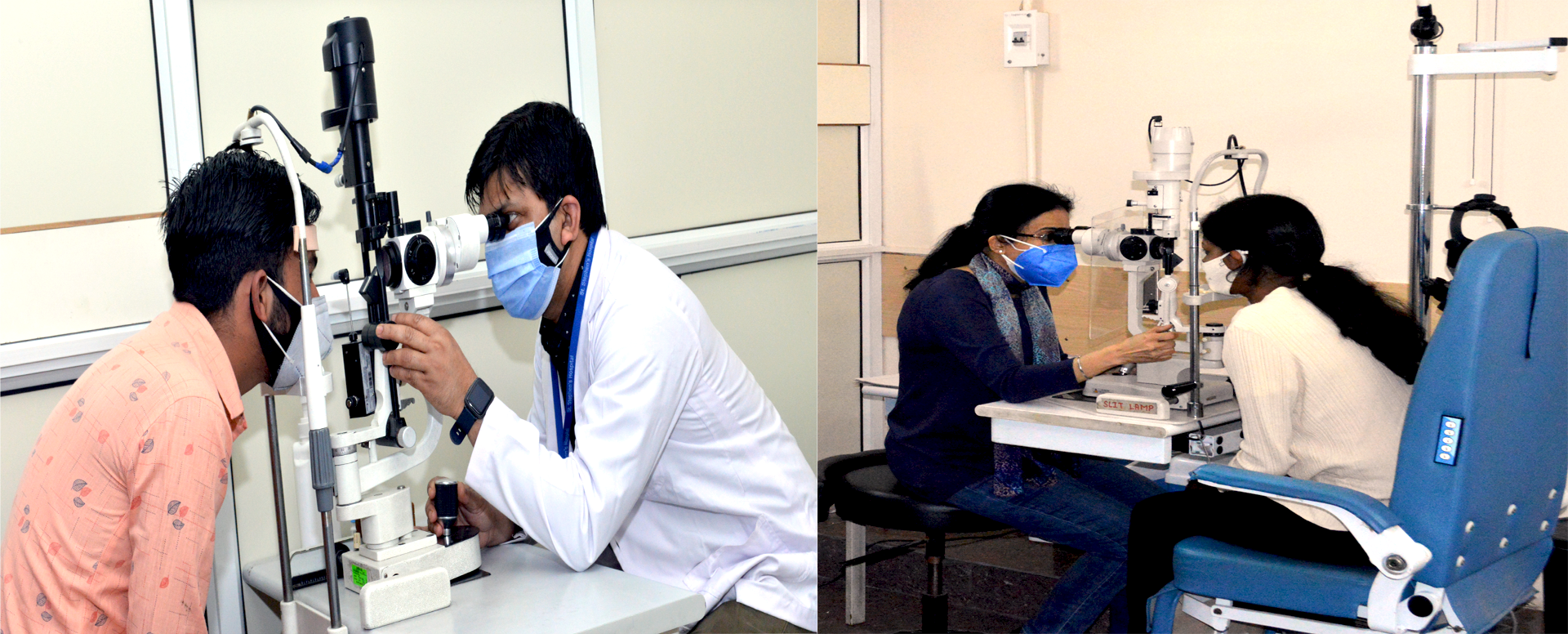 Ophthalmology/नेत्र विज्ञान
Reachable(8:30am- 4pm) at 011-2396621-27,Ext- 646(General/Pvt OPD)
The Ophthalmology department of St. Stephen's Hospital is driven by the need to protect and preserve sight. We have a highly experienced team of doctors working together to provide the best eye care to every patient.
We offer comprehensive range of eye care sub specialities and services mentioned below for patients from all walks of life.
CLINICS IN OPHTHALMOLOGY
CORNEA CLINIC
आँख की पुतली की रक्षा करने वाली पारदर्शी परत की दिक़्क़त जैसे कि इस परत का पतला होना, देखने में दिक़्क़त होना, इसमें छाला होना इत्य आदि का ईलाज।
CORNEA is the transparent anterior portion of the outer covering of the eye.Keratoconus is a corneal disease characterized by thinning and bulging of the cornea which affects young patients.This compromises clear sight.
Our doctors provide treatment such as specialized contact lenses, C3R , Athens Protocol surgery.
In addition, treatment for surface disorders like
pterygium / पक्षक, foreign body, keratitis/ कनीनिकाशोथ, corneal ulcers/ कॉर्नीआ में घाव
DRY EYE CLINIC
आँखो में खुश्की का ईलाज
Dry eye is a common ailment caused by a wide range of conditios
We provide a comprehensive eye examination and tests to diagnose dry eye syndrome.Treatment and guidance for lifestyle changes require for the same are given.
CONTACT LENS CLINIC
सही कांटैक्ट लेंस चुनाव व उन्हें इस्तेमाल करना का तरीक़ा सिखाने के लिए क्लिनिक
Our experts aim at finding the most appropriate lens for optimal comfort and vision for patients.Training regarding care,insertion and removal is given.
GLAUCOMA CLINIC
काला मोतियाबिंद-यह आँख के अंदर उच्च तरल दबाव का परिणाम है। ऐसा तब होता है जब आँख के सामने वाले भाग में तरल पदार्थ को जिस तरह से होना चाहिए उतना प्रसार नहीं होता है ।इस से आँख की ऑप्टिक तंत्रिका को नुकसान पहुँचता है।इस का निदान, रोक थाम व उपचार की सेवाएँ इस क्लिनिक में उपलब्ध है ।
Glaucoma is a disease that damages the optic nerve. It is asymptomatic till late stages in most cases.It can lead to permanent blindness if left undiagnosed. It is called the silent thief of vision.
With advanced OPD based procedures like
Applanation tonometry
Gonioscopy,
OCT(optical coherence tomography)
Perimetry,
Pachymetry etc
It is possible to make timely
Treatment includes medication ,laser or surgery.
RETINA CLINIC -Vitreoretina and Uvea Services
रेटिना को हिंदी में दृष्टिपटल कहते हैं। यह आँख का पिछला परदा है जहां कोशिकाएँ हैं जिन पर जब प्रकाश पड़ता है जिस से हम देखने में सक्षम होते हैं। रेटिना में किसी भी तरह की समस्या जैसे कि शुगर, ब्लड प्रेशर, सरकोईड़ोसिस, खून की कमी ,गठिया इत्य आदि होने से प्रकाश की क्षमता कम हो सकती है। इन सब के रोक थाम व उपचार के लिए विशेष क्लिनिक ।
Retina and Uvea are sensitive tissues of the eye which are affected by many systemic diseases like diabetes mellitus,hypertension,anaemia,sarcoidosis, rheumatoid arthritis etc.
Retinopathy of prematurity (ROP)is an eye disorder where there is growth of abnormal vessels in premature infants. Our department aims for a timely screening and treatment of ROP to preserve sight.
Specialised imaging tests like OCT, FFA(fundus fluoroscein angiography), Autofluorescence etc are required for diagnosis and to aid management.
Treatment include lasers, intravitreal injections and surgical management.We have a dedicated team of doctors managing these ailments.
SURGERY
Cataract Surgery/ मोतियाबिंद की सर्जरी
Cataract develops gradually and leads to blurred vision and sometimes loss of vision.Cataract surgery can help replace the cloudy lens with a clear, artificial lens. This leads to recovery of good vision provided no other ocular disease coexists .
We have highly experienced specialist doctors in treating cataract with latest stitchless phacoemulsification and microincision cataract surgery.
Premium foldable Intraocular lenses like multifocal IOL,extended depth of focus IOL ,Toric IOLs are being used.
Refractive Surgery/ चश्मा हटाने के लिए सर्जरी
It includes a range of surgeries which help in correcting nearsightedness (myopia), farsightedness (hyperopia) and astigmatism .
Surgery done, LASIK , PRK and Femto-LASIK are procedures which use laser to reshape the cornea and the visual recovery is rapid.
Phakic IOL and clear lens extraction with multifocal IOL are other procedures available for spectacle removal.
---
Meet the Paramedical Team