Anaesthesiology
एनेस्थिसियोलॉजी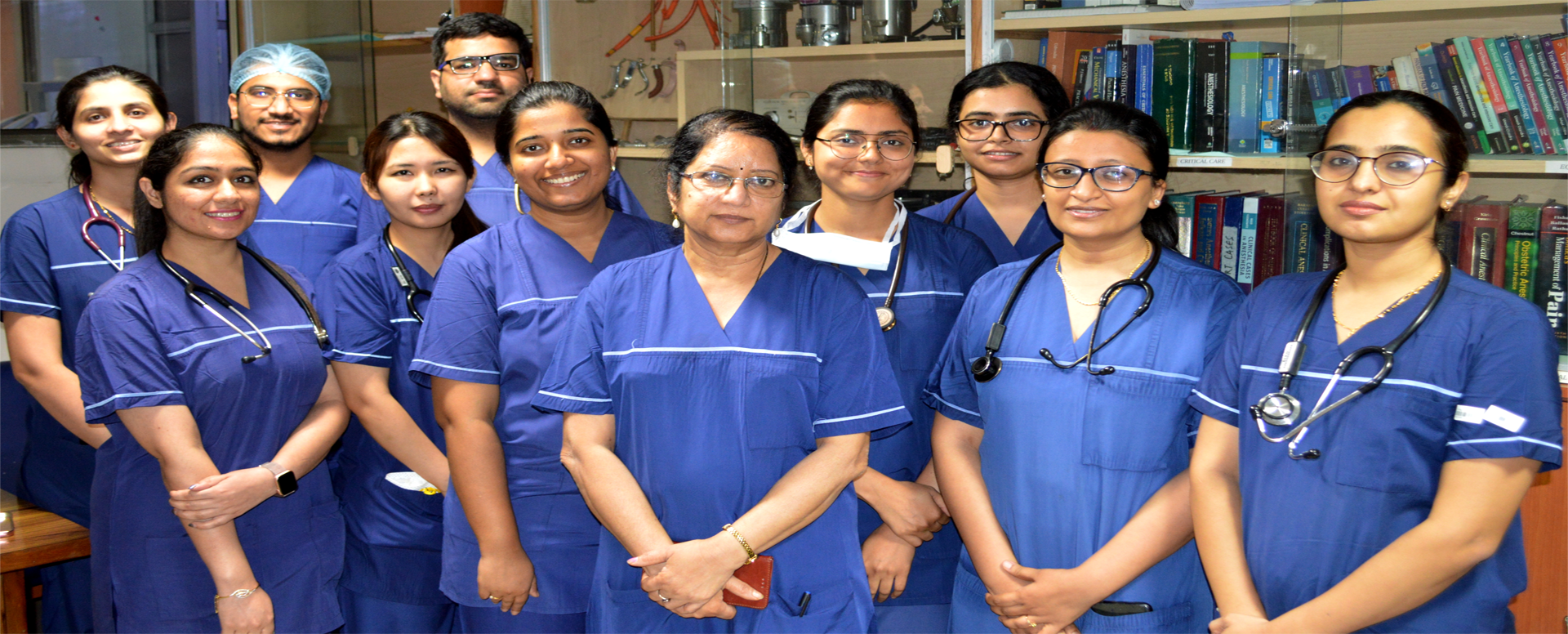 Anaesthesiology / एनेस्थिसियोलॉजी
INTRODUCTION
Anaesthesiology is a highly specialized field of medicine dedicated to comprehensive medical care of patient before, during and after surgery. Anaesthesiologists are  physicians and experts in fields of Peri-operative medicine, Intensive care medicine, Emergency medicine, and Pain medicine.
The Department of Anaesthesiology at  St. Stephen's Hospital takes pride in serving mankind and providing outstanding medical care to  patients by integrating education, evidence-based medicine and research. We cater to patients not just in operating theaters but also in non-operating environments like Casualty, Cardiac- catheterization suite, Radiology suites, Endoscopy room, Pulmonary suites, MICU, SICU, CCU, PICU, NICU.
Pioneers and champions of patient safety
Anaesthesiology is an ever-evolving field in which we inherit harbor and inculcate a very strong cause of patient safety in all our personnel.  Our mission is to learn from successes and failures, to continuously improve the quality of care we provide, and commit to a culture of safety that protects our patients and colleagues. To achieve this cause we have regular external safety audits, mock-drills and quality assurance exercises which helps us to improvise for betterment of the services provided.
Academics
Our department is well known for its DNB curriculum. Its the most coveted pan-India institute during the counseling and seat allotment process of National Board of Examination, New Delhi. We have top-rankers of NEET-PG Exam opting for training at our Institute. Every year we have an intake 6 post-graduate students (03 Primaries and 03 secondaries) . We conduct regular CMEs, workshops, journal clubs, teaching sessions and encourage research. Our students are stalwarts in their field and are practicing across the length and breadth of country while earning pride and glory for their alma-mater.
A 2 year  Diploma programme for technicians in anaesthesia , affiliated by CMAI ( Christian Medical Association of India ) ,is also being run by department since 1987. The annual intake for this course is 06 students selected through a written and oral Examination conducted in month of June.
OUR SERVICES
The department specializes in providing general anaesthesia , regional anesthesia , fibro-optic intubation for difficult airways (cleft-lip , cleft-palate , facial growths and tumours etc. ), USG guided nerve blocks , labour analgesia, and has been handling difficult cases in Neuro-surgery ,Pediatric-surgery, Orthopaedics ( Cerebral Palsy , Post- Polio Residual Paralysis patients with severe kypho-scoliotic spine ),Cardiothoracic and Vascular surgeries.
The general operating complex consists of 9 operation theatres. We also have 2 -dedicated obstetrics theatres and 3- operating theatres for ophthalmological procedures. Apart from this the department of Anaesthesiology also covers periphery calls  for medical procedures in Gastroenterology suite , MRI suite , Cardio-Catheterization suite and Bronchoscopy laboratory and Electro-Convulsive Therapies..
Pre-anesthesia Clinic
There is a designated OPD room adjacent to main OT complex, where patients are thoroughly evaluated and optimized prior to surgery. The clinic is designed to provide a patient – friendly environment where patients are counselled and detailed about anesthesia procedure and operating room environment before surgery.
OPD timings are 8.00 A.M to 4.00 P.M everyday including Sundays and holidays. 
Labour Analgesia
The department provides 24x7 labour analgesia services to the pregnant patients through epidural regional anaesthesia to impart painless normal vaginal deliveries.
Acute Pain Services
To alleviate acute pain induced post-operatively, we use multimodal approach to analgesia , both pharmacological and non pharmacological  methods along with regional anaesthesia and USG guided nerve blocks. 
PATIENT'S GUIDE
Pre-anaesthetic checkup is done to assess pre-existing diseases and co- morbidities and to minimize their adverse effects. Further laboratory investigations and medical consultations are obtained if required. If  the lab investigations are within normal limits, patient is accepted for anaesthesia and surgery. We discuss all the probable options with patient and the type of anesthesia is then finally decided depending upon the type of surgery and patient preferences and comfort.
Following the surgery, depending on the condition of patient, he/she is either shifted to recovery room (ie PACU or Post Anaesthesia care Unit) under anaesthesia physician or to  ICU.  If the patient requires acute pain services then required forms are filled and patient is shifted to post-operative care unit.
In all the above proceedings,a physician's training and skill plays an important role in providing  quality care and taking appropriate action whereever required. 
---