Internal Medicine
इंटर्नल मेडिसिन
Private Opd Timing
Private Opd Timing
Dr Ras Bage
Days
Registration Timing
Tuesday
9:00 AM
To
12:30 PM
Saturday
9:00 PM
To
12:30 PM
Dr Rohit Mahajan
Days
Registration Timing
Monday
9:00 AM
To
12:30 PM
Wednesday
2:00 PM
To
3:30 PM
Dr Hitesh Arya
Days
Registration Timing
Tuesday
2:00 PM
To
3:30 PM
Thursday
9:00 AM
To
12:30 PM
Dr Vandana Gulati Dhingra
Days
Registration Timing
Monday
2:00 PM
To
3:30 PM
Wednesday
9:00 AM
To
12:30 PM
Dr Shailendra Kumar
Days
Registration Timing
Tuesday
9:00 AM
To
12:30 PM
Thursday
2:00 PM
To
3:30 PM
Dr Leiyami Kasar
Days
Registration Timing
Monday
9:00 AM
To
12:30 PM
Friday
9:00 AM
To
12:30 PM
Dr Amit Takkar
Days
Registration Timing
Wednesday
9:00 AM
To
12:30 PM
Friday
2:00 PM
To
3:30 PM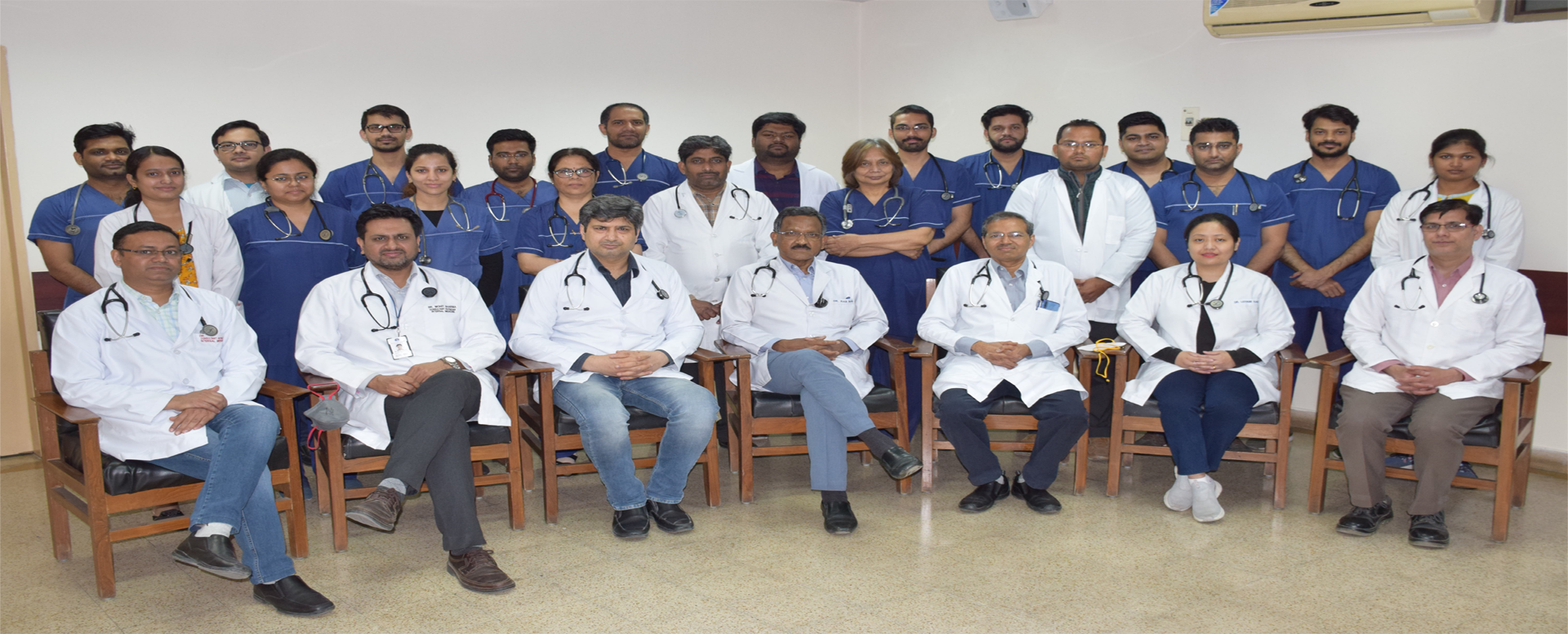 Internal Medicine/ इंटर्नल मेडिसिन
Reachable(8:30am- 4pm) at 011-23966021-27,Ext- 462(General OPD), 401(Pvt OPD)
The Department of Internal Medicine is a large and well-established department in St. Stephen's Hospital.
We are well-known for our ethical, holistic and patient-centered approach.  We provide ethical, scientific evidence-based medicine with best-practice approaches, which results in cost-effective treatment and an excellent patient experience.
Our specialty and department is unique and takes pride in approaching each patient holistically as an individual with inter-related medical symptoms rather than having a fragmented approach of focusing on individual organs which ignores the person as a whole.
Premier teaching hospital status - We are a premier academic teaching hospital which ranks highly amongst candidates who are competitively selected in NEET post-graduate examination to obtain Diplomate of National Board (DNB) qualification. All our consultants are faculty for National Board of Examination of Medical Sciences (NBEMS). Track record - We have an excellent academic track record with 100% pass rate in post-graduate specialist examinations.
WORKFORCE 
We have a large departmental full-time workforce in Internal Medicine with 8 specialist consultants, 4 senior medical officers, 4 senior resident doctors and more than 20 junior resident doctors.
WHAT WE DO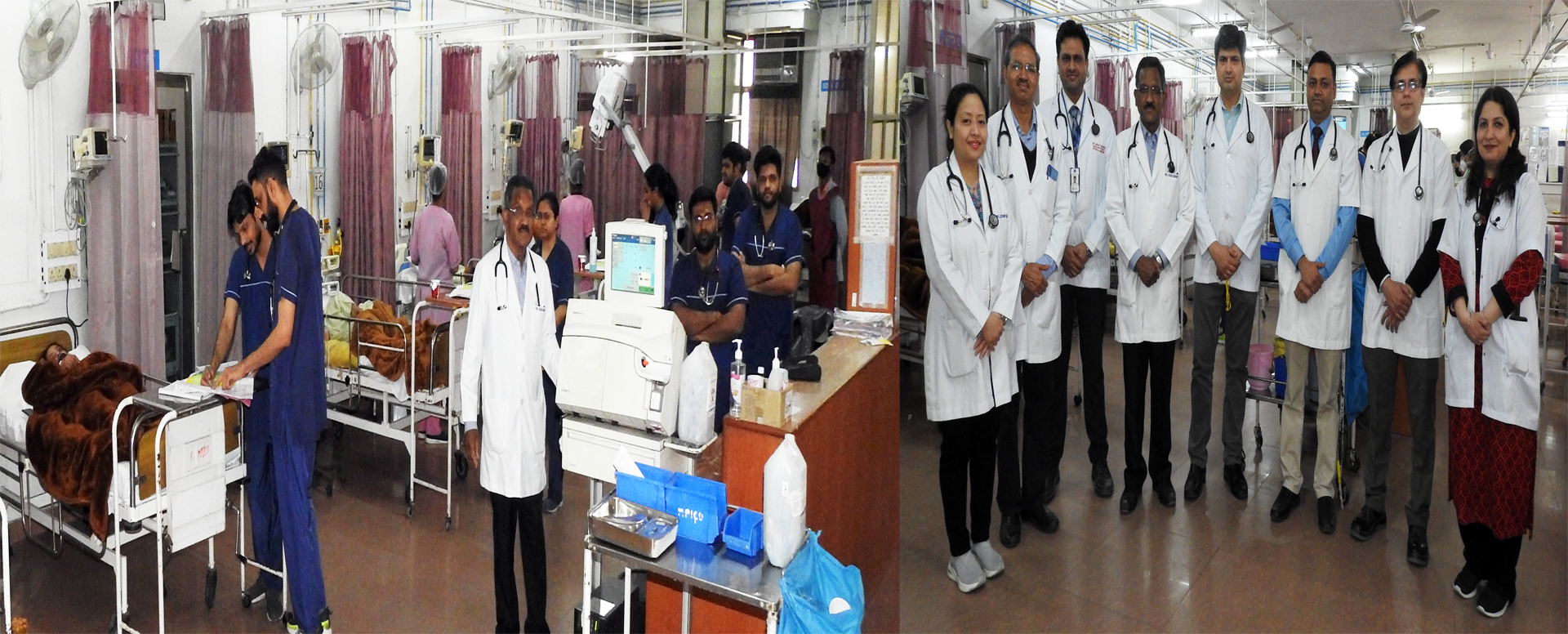 Our department specializes in diagnosing and treating complex problems of any organ system or multi-organ systems in all adults including adolescents (age 12 years and above).
Emergency and inpatient care
Our work includes assessing and treating life-threatening emergencies in emergency department (casualty) and admitting them if required to achieve the correct diagnosis and treatment. This service is provided 24 hours and 7 days a week with round-the-clock presence of Senior Internal Medicine specialist and their team. In-patient care is supported by availability of routine and all specialized investigations 24 hours a day.
Internal Medicine Department strengthens its care with a separate Special Monitoring ward for critically ill patients and wards for more stable patients.
Wards have different types of rooms – a) single private rooms, b) 2-bedded semi-private rooms and c) 4-bedded and 6-bedded general wards.
Medical ICU
We also jointly (along with specialist intensivists) provide care for extremely critical patients in Intensive Care Unit (ICU).
Out-patient department (OPD)
a) Private OPD – Patients can choose to see any senior consultant of Internal Medicine Department according to the consultant's OPD days for a more individualized and personalized consultation.
Timings – 08:30 am to 04:30 pm - from Monday to Friday; 08:30am to 12:30 pm on Saturdays. Walk in patients are welcome. Taking a prior appointment is advisable for patient convenience and knowing the availability of the consultant.

b) General OPD – It runs from 08:30 am to 04:30 pm from Monday to Friday and 08:30 am to 12:30 pm on Saturdays.
c) Special OPD – Special OPD for infectious diseases including HIV is run every Wednesday from 2pm to 4pm.
Examples of some rare conditions treated
1) Nocardiosis 2) Arsenic poisoning 3) Histoplasmosis, 4) Auto-immune disorders with multi-system involvement 5) Brucellosis 6) Methemoglobinemia and many other infectious and non-infectious conditions.
---