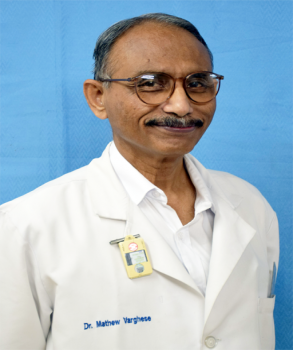 Dr Mathew Varghese
Orthopaedics/ हड्डी विभाग
Senior Consultant & Head of Department
Quick Contact
( 011 ) 23966021 - 27

mail@ststephenshospital.org
About
Experience of 38 years
Distinguished alumnus of MAMC working in the field of injury prevention, trauma care with a vision to reduce the impact of musculoskeletal disability specially among children.
He is a hero to his patients and other admirers, including Microsoft founder Bill Gates. On his Facebook page, Gates describes Dr Varghese as "my inspiration and my real-life hero" for "fighting and (having) dedicated his life for polio eradication in India".
He is also the co-author of the book "When someone has hurt," a first aid guide that has been translated into five languages, and "Prehospital Trauma Care System," which was published by the WHO.
He is faculty for National board of examination and has been  post graduate guide for more than 3 decades.
Degree